Welcome to this week's addition of Dear So and So.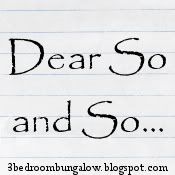 To join in the fun or see what others are getting off their chests this week, click on the button above.
Dear Facebook,
It's been a few weeks since I've visited with you (ok, for full disclosure, I went on FB to make sure that a friend was recovering ok after having a baby). And I am happy to report that I don't miss you nearly as much as I thought I would. Sure, I missed the fairly instant gratification of finding out that three friends gave birth to healthy babies and seeing pictures of all the new babies. But, I am no longer thinking of my day as a series of status updates.
Of course, I do miss posting random pictures like these, pictures that perhaps don't deserve an entire blog post, although it's really tempting to write about Price's baby shoes, I'm just afraid that the few of you who read might give up on me.
Easter Shoes
I don't think these count as baby feet any more
I have decided that in your case absence really doesn't make the heart grow fonder. Sure, I'll see ya again the minute Lent is over soon, but I'm keeping you off of my phone.
-Me
Dear Isabelle,
Our living room is NOT a litter box. Please quit using it as such. We will continue to have words about this. I've Oxycleaned, Resolved and vinegared to make the smells go away. Yet, you keep doing it, no matter how often I take you outside to do your business. And don't you realize how much Price adores you? He wants to be just like you- he plays with your toys, he eats your food and I'm afraid of what he'll do if he ever finds one of your "treats" before I can clean it up. Seriously, this must stop- or I won't be so vigilant about not letting you play with the poisonous frogs.
-Me
Dear Face,
Seriously, what are you 12? What's up with all the pimples? Can you please clear up soon?
Thanks,
Proactiv Poster Child
Dear Y'all-
Yes, you all. All of you who read this blog. First, thanks for reading! I love that you take time out of your busy days to hear what I have to say. Keep your comments coming, I love, love what you have to say!! I want to give a little shout out for one of my fellow Guam blog buddies, Tessa. I may have mentioned her a time or ten before... Anyway, she is doing a
Guamazing
give away. All you have to do is visit her blog (which is excellent, really funny) and leave a comment for a chance to win a whole bunch of Guam goodies.
Speaking of giveaways, keep your eyes posted because I have an exciting one coming up soon!
Have a great weekend
-Me